(In honor of the new PPP, the Paycheck Protection Program, a good bit of improvisation.)
I was an ActBlue junkie
I love ActBlue, and there is much to say in favor of it: it is one of the Democratic party's most effective weapons, greatly facilitating impulse contributions from its sympathizers. Contributors feel, correctly, that someone is listening. Analysis of which responses elicit the donate reflex is sophisticated, subtle, multi-dimensional. If one believes that electoral competition is a dynamic synthesis of ideas, then the algorithms used will help make it so, in the interest of maximizing power (money).
My intention in 2019 was to encourage good arguments, causes I support, and electoral participation. My usual answer to an appeal I like was to give them the very small number they initially ask for, like to a mendicant ($3 is that most frequent ask amount), but if not, I give $20.20, Then I like to see whether they have record of the previous amount(s) the next time(s). Sometimes they do, sometimes they don't. Sanders' database managers are one of the best, from this angle.
The bad news is the lack of strategic consideration in this impulse buying. My objective in 2020 giving must be to assist specific electoral outcomes. My budget for direct contributions is $1000--I have to stick to it, for hygienic reasons. 10 months to November, $100 each month, ideally two donation recipients, $50 each. Sorry, that's it, though "in kind" contributions are certainly being considered. Progress report below.
The vice I have traded this one (reading 20-200 emails a day asking for money, and spending money on the ones I like) for is active monitoring of my predictit.org hobby account. It's cheap entertainment: I have put in a total of $200 over five years, and I make lots of small bets, small comments on the site, and adjust constantly. I will refer to it some below.
Four More Months
Four months ago, Joe Biden had just turned it around in South Carolina and was preparing to wipe out the competition on Super Tuesday, the endorsements suddenly flooding in. The economy had not yet collapsed due to virus spread. President Trump's favorability was nearing a record high after surviving the impeachment trial; polls showed a small Biden lead but the incumbent was generally favored.
That's how quickly things have changed, so they could change again.
It is possible to construct an electoral scenario in which Trump keeps self-destructing all the way through the election. The popular vote margin, now polling at 10 points, could keep expanding, to 15-20 points. The Electoral College vote for Biden could break 400 votes, a margin of over 250; Texas would be the tipping point for a real blowout, even bigger than Obama's win over McCain. It has happened before, though not yet in this century.
It's a hopeful thought, though it can only happen if this series of unfortunate events deepens. It could happen; there are a variety of unpleasant October surprises no doubt lurking due to past Trump offenses, like the one that happened in late-June instead this week (with the revelation of bounty payments offered by the Russian GRU to Afghanis to kill our soldiers), with Trump once again looking to be the Mad King no one dares to cross.
I think it much more likely that the race will tighten. Just as Democrats who didn't care for Biden have had to come to terms and back the guy chosen as champion for their side, many Republicans or Republican-leaning independents would love to come back to Trump if he earns back the confidence he has shaken in these months. The economy will certainly show some improvement from its trough in the second quarter. We should expect Trump's approval number to rise from the high-30's to the usual 42-43%.
The other change I expect is the effect due to the changes between registered voters and actual voters. I don't see an enthusiasm gap at all, but I see a lot of potential obstacles, in many states, which will have disproportionate effects. Voter suppression efforts, combined with disruptive coronavirus effects, could erode the Democrats' turnout more than their opponents'.
Here's a map of where sentiment lies now, backed by Predictit bettors' money, on the individual state markets (and Congressional district ones, where applicable), for the 2020 Presidential election:
https://www.270towin.com/maps/7D9YO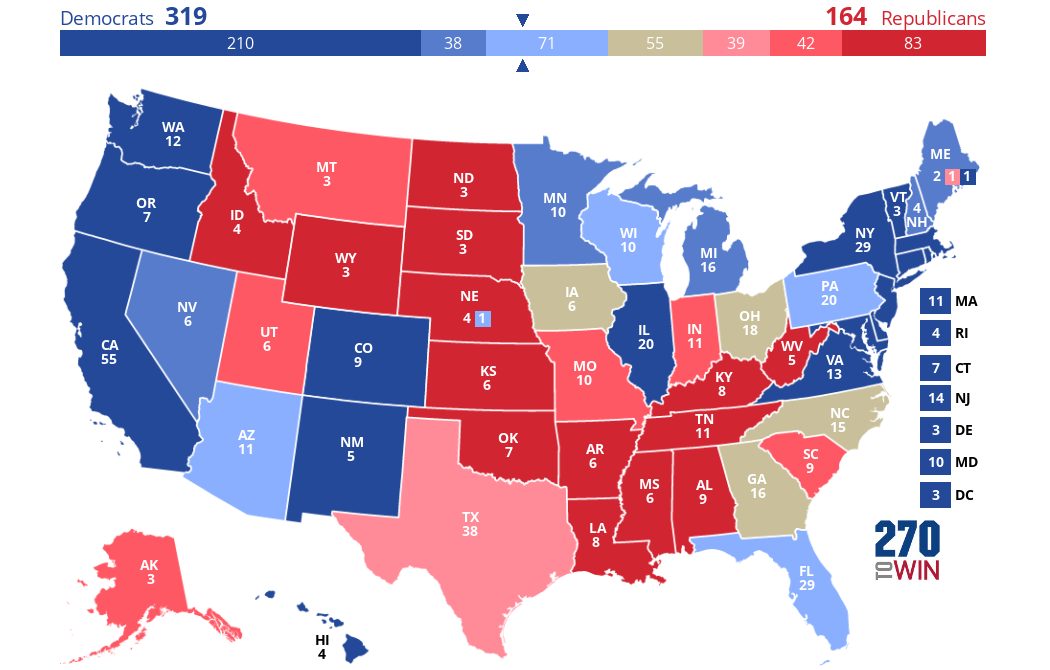 Click the map to create your own at 270toWin.com
Key: Tossup--margin between Republican vs. Democrat in the market is 15% or less, either way; Lean - margin is 16-45%; Like is 46-75%; Safe is 76%or more.
The Senate Map
(Same approach. Keep this one in mind, too--it's just as important as how big Biden's win must be.)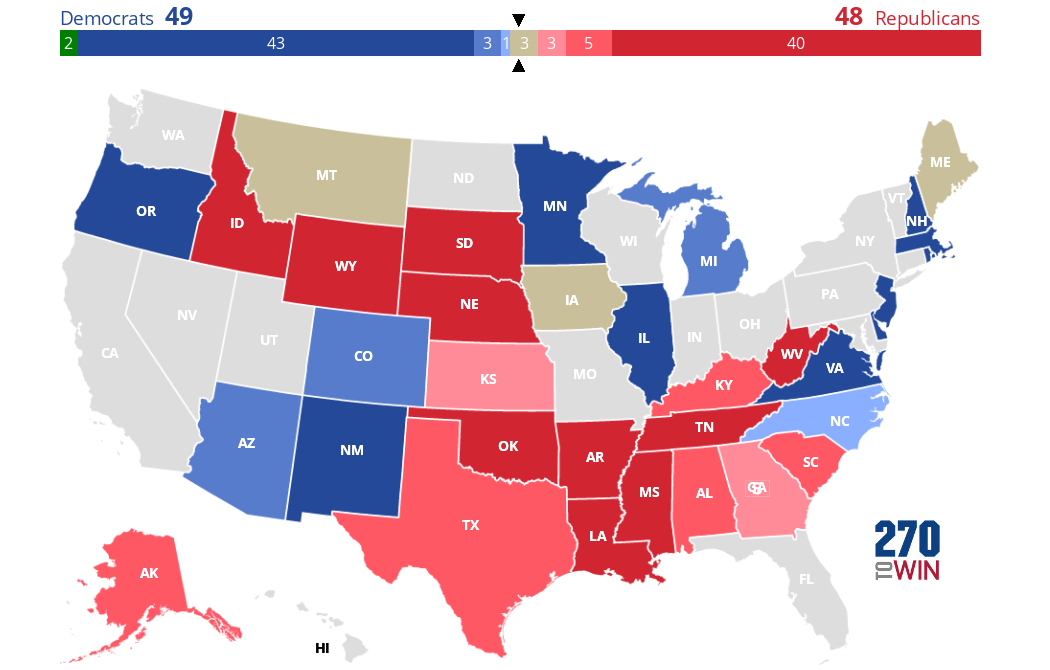 Click the map to create your own at
270toWin.com
If I (Joe Biden Campaign/DNC) had $200 million to invest right now (and they do), I (they) would see that the challenge is that the US is such a "target-rich environment" (as Donald Rumsfeld might say). This is how I'd spend it, by state:
A. Primary Targets
Pennsylvania/Michigan--$25 million each.
Joe Biden must win these to justify his nomination, which basically rests on the assertion that his candidacy has the best chance to win back these two states, and their 36 Electoral College votes, that went narrowly to Trump and were critical to his victory. If one looks at the map above, with MI (just moved to "Likely" over "Lean" in Predictit) and adding PA to the Solid and Likely sum, Biden gets to 268 electoral votes. If he secures these, he needs only two more, from somewhere.
Florida - $40 million.
The state has surely frustrated in the past, but Democrats can win it--Obama did it twice. Trump, with the assistance of acolyte Governor Rick De Santis, has given Biden a golden opportunity, and some additional seniors have been persuadable about Trump's incontestable incompetence. If Biden wins FL, it's pretty much OVER--it could even make up for inexplicably losing MI or PA (but not both). Florida's population resembles the US' as a whole in many ways (though a few points more Republican), so the popular vote shift in Biden's favor (vs. HRC's in '16) should translate well in FL.
Arizona/Wisconsin - $15 million each.
These are the best opportunities for additional electoral votes, after PI, MI, and FL. Biden needs only one of the two, and Arizona (like FL, a Covid-19 disaster area with a GOP Governor mishandling the pandemic) is very promising from all indications, also a huge Senate seat prospect. WI will be a war, but it must be engaged, again.
B. Secondary Prospects
Georgia, North Carolina, Iowa, Texas - $7 million each.
These are the opportunities to make Biden's win truly historic. They rise to the top of the many possibly blue-ing states because of the chances to win a Senate seat downballot. GA has two seats that can be won, a rare opportunity that could be squandered without full support, while Iowa (the worst Biden state in the primaries) is now looking possible for both Biden and Senate candidate Theresa Greenfield to win. North Carolina has 15 winnable EV and a winnable Senate seat, too, with a fair election. (GA and NC money should go in large part for pollwatchers and lawyers). Texas has the same opportunities--less likely, but even more transcendent in their potential historical impact.
C. The Rest
43 other states/entities - $1 million each
. This includes DC and Puerto Rico (in support of Carmen Yulin's run for governor there).
Bonus $1 million grants
: MT, ME, SC, AL, for their important Senate races; MN, NH to defend competitive '16 Clinton states; OH, just because; and Nebraska and Maine (again), $1 million extra for special effort in each of the two states' 2nd Congressional district. In the bad-case scenario of 268 Democratic Electoral Votes described above, the door out of that room is winning those two marginal districts in states which have their electoral votes divided up by district.
"Slow Down on Testing"
No, he doesn't "kid"--though he's still one emotionally. He lies. With measurable and predictable frequency.
Rather, he makes stuff up--it just comes to him, usually from the Ego, but sometimes from the Id. He doesn't filter it, not often, but just "says what he thinks". The key for him is what he sees as the result of his trial effort. If it seems to work for him (by his standards), it becomes part of his repertoire. If the reaction doesn't please him, it's discarded.
This process is something that Donald Trump is incapable of understanding, lest it change "the way he thinks", which is the one thing that is all-important to him. He could never be capable of explaining it coherently (or even 'covfefely'). So, when he got challenged on it, he came back with the "strong" response, which his conscious mind might have realized was the wrong answer, an idiotic one.
The latest indignity is the news that the E.U. is banning Americans, along with some other countries that are experiencing higher coronavirus infection rates than any of the European ones these days. This is to be a temporary measure, but I find it rather astounding nevertheless. It is an administrative nightmare, to which penning Americans with the relatively-smaller number of other foreign travelers (not from East Asia) simply adds. It would be a wonderful gift to the U.K., which is busy failing with Brexit and needs a boost badly (try London City Airport to avoid Heathrow), but the U.K. is theoretically still in the E.U. for this purpose--it will be interesting to see if the Brits follow F. Mac's advice and "go their own way" on this one. It would, of course, devastate many potential travelers' plans and give another mortal blow to airlines.
Europe, in theory, is justified in protecting itself, apart from any political consideration. The US has reopened before it had the initial outbreak under control. That is a fact. The answer is a testing regime for travelers, including post-arrival quarantine of 7 days, and evidence of a return ticket paid for. For Trump, though, this is an embarrassment he richly deserved, and it may explain why he might plead for less tests, in his ignorant view. The fact is that the E.U.'s evaluation required nations to show positive results, in terms of tests taken and low infection rates more proven.
Rolling Some Numbers
We have now blown out the projection I made of 80,000 Cv deaths in the US in the initial wave. The way I was looking at it then, it should've trended, about July 1, toward zero, as many European countries have now done--something like the 110,000 number it busted through recently. But now, it is accelerating once again and is projected, in Dr. Murray's new-and-improved
forecasts
, to reach some 190,000 by October.
It is arguable that what we are experiencing is the rolling continuation of the first wave as it hit more-densely populated areas less intimately connected to the initial sites of domestic infection, and less protected from rapid spread. Because one thing we have learned of this virus is its great ability to spread, its
R-nought
. It was initially estimated between 2 and 3 and projected based on that, but now I am hearing numbers over 5 among unprotected populations. At that level, it's gonna spread, and eventually will overcome all but the strictest limits. But these more remote areas now having the highest infection rates might have been protected if we had a plan to do so.
Happy birthday, Concept of the United States of America!